Brad's brie and ham stuffed pork loin with twice baked squash. Butterfly pork on a flat surface and spread stuffing evenly over meat. Brush pork with sugar mixture from bowl. This stuffed pork tenderloin recipe is to die for with all the flavors of fall!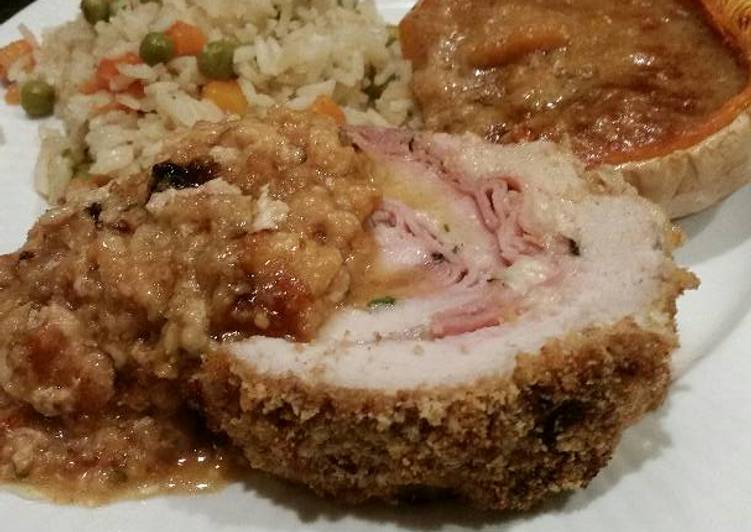 Drain the chorizo fat away from the mixture in the pan and mix in the caramelised apple. Spread this chorizo mixture onto the cut side of the pork. This perfectly roasted stuffed pork loin makes a delicious family meal. You can cook Brad's brie and ham stuffed pork loin with twice baked squash using 18 ingredients and 15 steps. Here is how you cook it.
Ingredients of Brad's brie and ham stuffed pork loin with twice baked squash
Prepare of For the loin.
Prepare 1 of whole pork loin about 3 lbs.
It's 8 Oz of brie cheese.
It's 1/2 cup of shredded swiss cheese.
It's 2 tbs of heavy cream.
Prepare 6 of green onions, chopped.
It's 1 tsp of minced garlic.
Prepare 1/2 lb of shaved deli ham.
You need to taste of Salt, ground mustard, and white pepper.
It's 1/2 cup of mayonnaise.
It's 1/2 cup of panko crumbs.
Prepare 1/2 cup of dry grated parmesan cheese.
It's of For the squash.
It's 1 of lg butternut squash.
It's 1/4 cup of blanched slivered almonds.
Prepare 8 Oz of mascarpone cheese.
Prepare 1/4 cup of brown sugar.
You need 1/4 tsp of each, cinnamon and allspice.
The pork is butterflied and stuffed with a simple dressing mixture. Slice the pork and serve it alongside baked or mashed potatoes and your family's favorite vegetable side dish. Don't worry, Bacon-Wrapped Stuffed Pork Loin isn't as difficult to prepare as it appears. Place bacon-wrapped loin in cast iron, or heavy bottom fry pan.
Brad's brie and ham stuffed pork loin with twice baked squash instructions
Split squash in half. Remove seeds and pulp. Place on a baking sheet. Drizzle with oil. Bake at 400 until squash is tender when poked with a fork.
Wash and dry pork loin. Place on a large cutting board. Carefully cut and roll the loin out. You are trying to turn it into a large flat piece of meat. Pound out with a mallet to even out the thickness..
Sprinkle with salt, mustard, and white pepper to taste.
Remove the white outside layer of the brie cheese. Mush it with a fork in a mixing bowl. Add cream and microwave for 20 to 30 seconds to soften brie..
Mix well after that. Cheese should end up creamy. Add swiss, garlic, and green onions..
Spread over the pork evenly..
Lay the slices of deli ham over the top. Roll meat up into a roll. Tie every two inches with butcher twine..
Place in a baking dish. Mix panko and parmesan cheese in a bowl. Evenly spread mayonnaise over rolled pork loin. Pour panko mix over that. Press in to the pork so it sticks to the mayo well. Cover loin evenly..
Place in oven at 400. When squash is done remv and let cool..
Place almonds in a dry pan. Over medium low heat, toast almonds until browned. Place in a blender and blend well..
In a bowl, mix the almonds and the rest of the squash ingredients..
When squash is cooled, use a spoon to scoop out the squash meat. Leave a thin layer around the skin..
Mix the squash meat with the rest of the stuffing ingredients. Refill the squash with mixture. Bake again, only long enough to warm up filling..
Bake pork until internal temp reaches 160. Remove from oven and tent with foil for 5 to 10 minutes..
Slice pork, plate it with a piece of squash. There will be goodies on the bottom of the baking dish. Scoop a little up and top pork with it. I served with rice pilaf. Enjoy..
Cook until bacon is browned on all sides. Remove from fry pan and place in foil-lined baking dish. A butterflied boneless pork loin stuffed with duxelles type stuffing with sauteed mushrooms, shallots & pistachios. Surprisingly simple to make, a stuffed pork loin can be the centerpiece of a large family meal that fits perfectly for any holiday. Place the pork on a flat surface and pat the filling out spreading it over top (this will be the inside) of the entire surface of the pork.