Pina Colada Overnight Oats. Pina Colada Overnight Oats. back to all recipes. Add Quaker Oats to your container of choice and pour in milk. Drizzle honey on top and refrigerate overnight.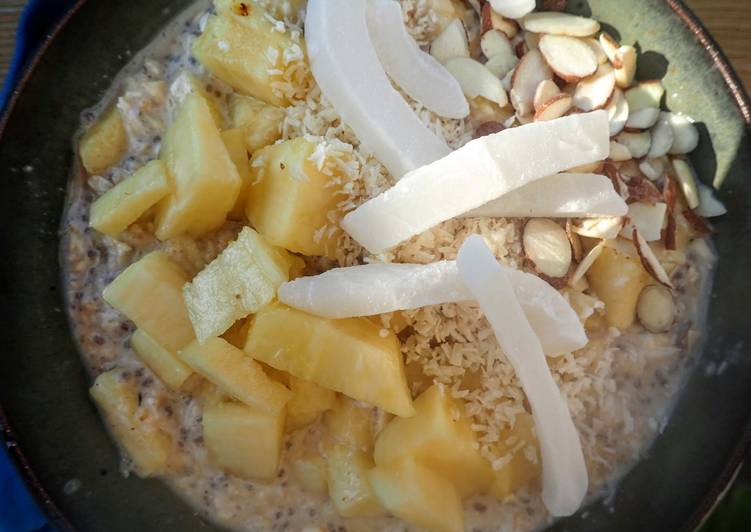 I don't post too many breakfast recipes because I'm not a breakfast person. Summer Shape Up is like going on a vacation. All your best friends are there. You can cook Pina Colada Overnight Oats using 10 ingredients and 5 steps. Here is how you cook that.
Ingredients of Pina Colada Overnight Oats
Prepare 1 cup of greek yogurt.
It's 1 cup of almond milk.
You need 1 cup of oats old fashioned.
You need 1 tablespoon of chia seeds flax or ground meal, plus more for topping.
You need 3/4 cup of pineapple chopped , plus more for topping.
You need 1 teaspoon of vanilla extract.
You need Pinch of salt of.
You need 1/2 cup of chopped fresh.
Prepare 2 tablespoons of coconut unsweetened flaked , plus more for topping.
Prepare strips of coconut almonds of and shaved to top.
If you like pina coladas….have I got the breakfast for you! You thought I was going to sing, didn't you? I'd be lying if I told you that I didn't hear that song in my head every time I enjoy a piña colada….or these Pina Colada Chia Overnight Oats. The song is catchy, and so are these flavors. 🙂.
Pina Colada Overnight Oats step by step
Combine yogurt, alomond milk, oats, chia seeds, pineapple, vanilla and salt. Stir well..
Set in refrigerator overnight.
In the morning divide into 2 bowls.
Top with Pineapple, coconut and coconut strips, and almonds as seen in picture..
Enjoy how easy that was :).
Overnight oats are super simple to make because most of the work is done in the refrigerator while you're sleeping. In the morning, all you have to do is give them a little stir and top with your favorite fruit or granola. Overnight Oats are perfect and healthy grab-and-go breakfasts that can be prepared the night before. Are you a faith filled woman who wants to nourish her body, mind and soul in Christ? Wake up to a tropical vacation with these healthy, gluten free Pina Colada Overnight Oats!