BBQ Pork Tenderloin & Peppers.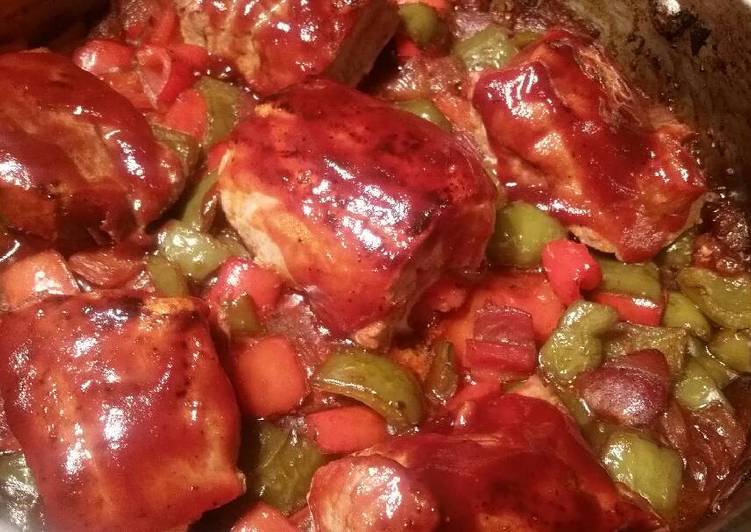 You can cook BBQ Pork Tenderloin & Peppers using 13 ingredients and 14 steps. Here is how you achieve that.
Ingredients of BBQ Pork Tenderloin & Peppers
You need 2 of pork tenderloins; trimmed & cut in thirds.
You need 2 t of garlic powder.
You need 2 t of onion powder.
You need 2 of green bell peppers; medium dice.
It's 2 of red bell peppers; medium dice.
Prepare 1 of large red onion; medium dice.
You need 4 of garlic cloves; minced.
It's 1/2 C of chicken stock.
Prepare 1/4 C of apple cider vinegar.
It's 1/4 C of A1 steak sauce.
You need 1/2 C of bbq sauce.
Prepare as needed of olive oil.
It's as needed of kosher salt & black pepper.
BBQ Pork Tenderloin & Peppers step by step
Preheat oven to 350°.
Season both sides of the tenderloins with dried spices, salt, and pepper..
Heat enough oil to cover the bottom of a large, oven-safe saute pan..
Space out tenderloins in the pan. Sear each side until nicely caramelized, then transfer tenderloins to a plate..
Add peppers and onions with a pinch of salt. Saute on high 2 minutes. Reduce heat to medium. Cook until peppers begin to soften, about 10 minutes. Add a touch more oil if necessary..
Add garlic during last 30 seconds of cooking..
Add vinegar and chicken stock. Quickly scrape up the brown bits from the bottom of the pan with a wooden spoon..
Cool until nearly dry, about 4-5 minutes. Add A1. Stir. Cook 30 seconds. Do not let sauce burn..
Place tenderloins atop pepper mixture..
Bake for approximately 20 minutes, or until pork reaches desired doneness..
Coat tenderloins with bbq sauce using a small spoon..
Return to oven for 2-3 minutes until bbq sauce reduces to a glaze..
Variations; Crushed pineapple, crushed pepper flakes, habanero, poblano, ancho chile, celery, celery seed, bacon, pancetta, red/yellow bell pepper, roasted bell peppers or garlic, tomatoes, jalapeño, yellow onion, shallots, sweet potatoes, potatoes, puree celery root, plantains, sofrito, beer, tequila, bourbon, rum, brandy, sherry, white wine vinegar, lemon, lime, orange, parsley, basil, oregano, zucchini, yellow squash, scallions, chives, leeks, kale, spinach, arugula, corn, cayenne, cilantro,.
Cont'd: coriander, demi glace, pearl onions, mushrooms, molasses, soy, chili sauce, applewood seasoning, cheddar, swiss, pepperjack, monterey jack, mango, feta, goat cheese, cauliflower, eggplant, carrots, provolone, coconut milk, saffron.