Pepsi Braised Pork Loin. This flavorful, tender pork loin is cooked to perfection in the oven with beer, carrots, and onions. It's a tasty centerpiece for a family meal. Juicy Beer-Braised Pork Loin With Carrots and Onions.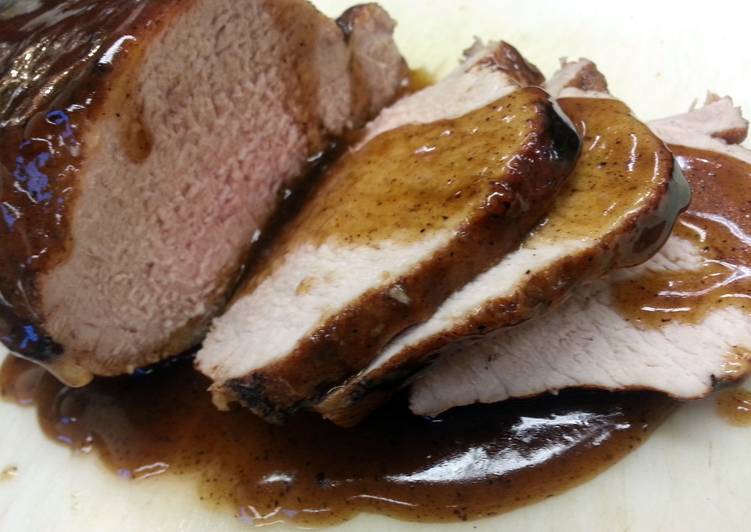 Alfredo sauce, bacon and fresh veggies make this Braised Pork Loin perfect to serve at dinnertime for all to enjoy. Pork loin is braised in a rich combination of beer, onion, and carrots. The veggie-beer mixture is then pureed to make a delicious gravy. You can cook Pepsi Braised Pork Loin using 13 ingredients and 7 steps. Here is how you achieve that.
Ingredients of Pepsi Braised Pork Loin
Prepare 3 lb of boneless pork loin.
Prepare 1 liter of Pepsi; warm.
Prepare 1/3 cup of raspberry vinegar.
Prepare 1/4 cup of dark rum.
You need 1/4 cup of cold water.
It's 2 tbsp of cornstarch.
It's 2 tbsp of ground coriander seed.
You need 1 tbsp of onion powder.
Prepare 2 tsp of garlic powder.
It's 2 tsp of white pepper.
Prepare 1/2 cup of brown sugar.
You need 1 of vegetable oil; as needed.
You need 1 of salt.
Sprinkle pork with salt and pepper. In large Dutch oven, heat oil over medium-high heat; brown. Sprinkle pork with salt and pepper. Brown on all sides in oil and transfer to plate.
Pepsi Braised Pork Loin step by step
Heat vegetable oil. Rub just enough vegetable oil on pork loin to cover. Season. Sear on each side and remove pork from pot..
Add rum and deglaze. Be careful. The rum may ignite, so don't freak out or burn anything!.
Add Pepsi. Return pork loin to the pot. Bring to a simmer and cover. Cook for approximately 30 minutes or until pork reaches desired doneness..
Remove pork loin and let rest five minutes before slicing..
Add brown sugar. Whisk..
Whisk water and cornstarch together in a small bowl. Add to braising liquid while whisking. Bring to a boil to activate cornstarch..
Variations; Vanilla extract, root beer, molasses, lemon, malt vinegar.
Place the pork on a large plate, cover with plastic wrap, and refrigerate for a few hours. In a small heavy pot just wide enough to fit pork loin, heat butter and oil over medium-high heat until butter is melted. Fry on medium heat in a little olive oil, until lightly golden. Remove the steaks from the pan to rest, squeezing over a little lemon juice. Chickpea, walnut and green bean salad.