Primavera Penne Pasta Salad. Penne Pasta Primavera is a delicious and healthy meal that is full of crunchy veggies and tender pasta. Finished off with a simple sauce with lots of fresh lemon juice and topped with Parmesan cheese, this easy weeknight dinner will quickly become a family favorite. It's perfect for meal prepping, too!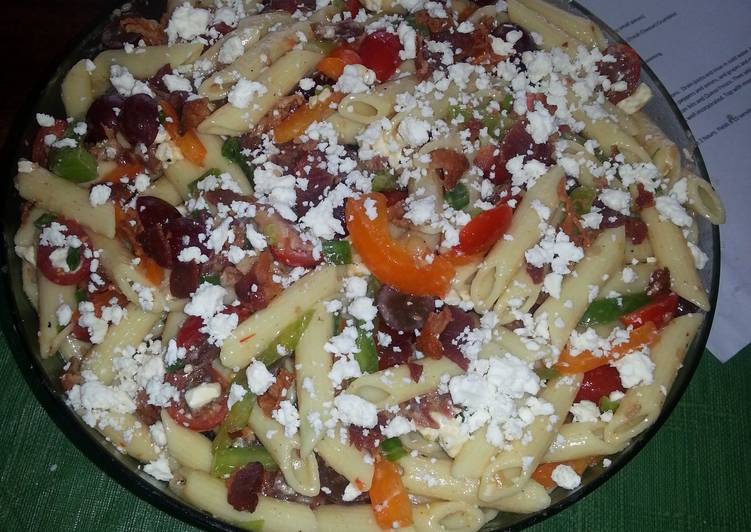 Pasta Primavera A classic dish using a mixture of pasta, bright green al dente vegetables, and a flavorful sauce. The key lies more in the method than the ingredients; indeed, using your own personal blend of favorite veggies is part of the fun of this dish. Pour veggies into now empty pasta pot or a serving bowl, add drained pasta, drizzle in lemon juice, season with a little more salt as needed and toss while adding in pasta water to loosen as desired. You can cook Primavera Penne Pasta Salad using 10 ingredients and 4 steps. Here is how you cook it.
Ingredients of Primavera Penne Pasta Salad
Prepare 16 oz of of Penne Pasta.
It's 1 1/2 cup of halved Grape Tomatoes.
It's 3/4 cup of chopped Green Onions.
You need 2/3 cup of chopped Yellow Peppers.
Prepare 1 packages of of crispy cooked crumbled Bacon.
Prepare 1/3 of of package of Queso Fresco crumbled.
It's 8 oz of Italian Salad Dressing.
You need 3/4 cup of Crunchy Red Seedless Grapes.
Prepare 1/4 each of of Garlic Salt and Lemon Pepper seasoning.
It's 1/2 tsp of Ground Black Pepper.
My Penne Pasta Primavera is chock full of crunchy Summer veggies, mozzarella and tender pasta all tossed in a light buttery sauce with lots of fresh lemon! It's perfect served hot or cold. Hidden Valley® Original Ranch Salad® Dressing & Seasoning Mix (Hidden Valley® Original Ranch® Seasoning, Salad Cook pasta according to package directions. Rinse with cool water and drain.
Primavera Penne Pasta Salad instructions
Cook pasta according to package directions. Meanwhile in a large serving bowl, combine tomatoes, green pepper and onions, and grapes..
Drain pasta and rinse in cold water; add to vegetables and grapes. Combine in bacon bits and Queso fresco..
Then add seasoning and salad dressing. Top with more bacon and Queso fresco..
Cover and refrigerate for at least 2 hours. Yields 8-10 servings..
Add zucchini and squash; cook, stirring, until. Bring pot of water to a rolling boil. Add pasta, and cook according to package directions for al dente. Drain, and rinse under cold water to cool. Meanwhile, whisk together olive oil and lemon juice in large serving bowl.