Warm Roasted Sweet potato Salad. In large salad bowl, place greens; add hot roasted vegetables. Add cranberries, if using, and toss. The sweet potatoes and onions can be roasted ahead.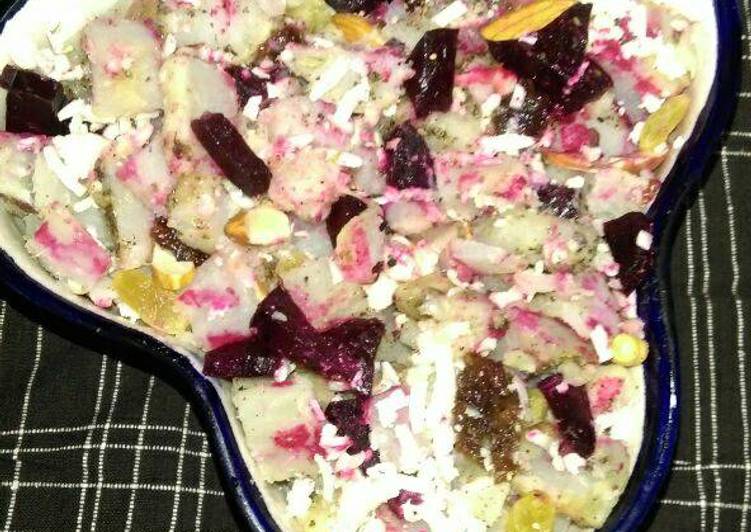 For even more Paleo salad dressing recipes and other delicious. Sweet Potato Salad, a Sweet & Savory Side Dish. Hearty potato salads, loaded to the brim with tasty tidbits, have always been the type of side dish that I really Roasting off peeled sweet potatoes that have been cut into small cubes is a great way to bring out their natural sweetness. You can have Warm Roasted Sweet potato Salad using 8 ingredients and 7 steps. Here is how you achieve that.
Ingredients of Warm Roasted Sweet potato Salad
You need 2 of Sweet potatoes.
Prepare 1 tbsp of Olive oil.
It's to taste of salt.
It's 1 tsp of Black pepper.
Prepare 1 cube of Cheese.
You need 1 tbsp of Honey.
You need 1 tbsp of each Cider vinegar.Capsico sauce.
You need 1/2 cup of Almonds,kishmish and boiled beet slices for garnishing.
This Roasted Sweet Potato salad is worthy of a meal or as a side for an occasion – especially if you add a little sprinkle of bacon! Every time I roast sweet potatoes, I wonder why I don't make it more often. While the sweet potatoes are roasting make the dressing by combining the olive oil, apple cider vinegar, balsamic vinegar, Dijon mustard, maple syrup Top with pine nuts and serve warm or at room temperature. Use sherry vinegar in place of the apple cider vinegar.
Warm Roasted Sweet potato Salad instructions
Roast sweet potatoes in oven or in fire..
Cut into cubes..
Prepare dressing by adding salt, capsico sauce, pepper,cheese,cider vinegar,olive oil and honey in a bowl.Mix well..
Add in sweet potato cubes..
Toss well..
Garnish with almonds,kishmish and boiled beet..
Eat warm..
Roasted Sweet Potato Salad with chickpeas, crispy shallots, fresh greens, and creamy lemon-tahini dressing is a warm and welcome vegan salad to keep nourished and happy! Sweet potatoes, I'm totally in love with them at the moment (and forever more). They are healthy, versatile and great. Easy roasted sweet potatoes with fresh dill, whole garlic cloves, white onion, and sea salt and pepper. Serve as a side or over spinach for a warm salad.