Turkey, Sweet Potato, Black Bean Chili. Crowd pleasing sweet potato turkey chili with black beans! Easy, healthy & simple, this delicious stovetop chili is packed with smoky, spicy flavor. And a touch of sweetness from the potatoes & cinnamon!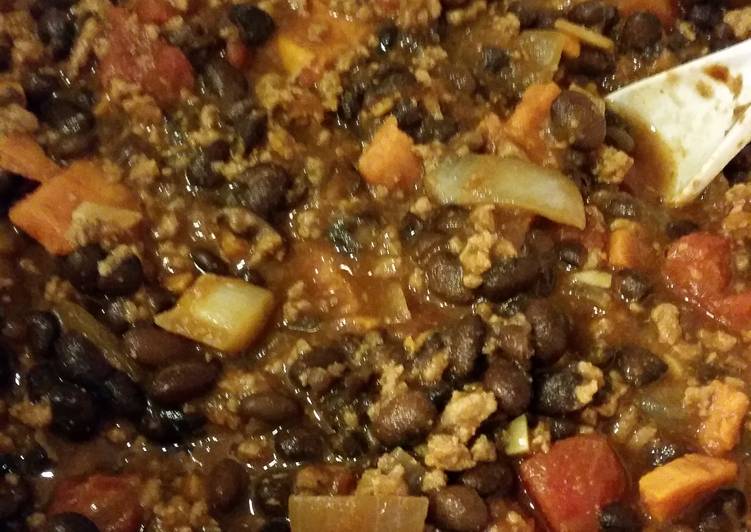 Making the first chili of the season always feels a bit ceremonious to me. Make a double batch of this quick vegetarian chili, full of black beans and sweet potatoes, and eat it for lunch the next day or freeze the extras for another night. We love the smoky heat from the ground chipotle, but omit it if you prefer a mild chili. You can cook Turkey, Sweet Potato, Black Bean Chili using 12 ingredients and 7 steps. Here is how you cook that.
Ingredients of Turkey, Sweet Potato, Black Bean Chili
It's 14 oz of Sweet potatoes, peeled & cut into 3/4 inch chunks.
Prepare 1/4 cup of olive oil, extra virgin.
Prepare 1 of Sea Salt.
You need 1 1/2 cup of Yellow onion diced.
You need 2 clove of Garlic, minced.
Prepare 1 tsp of ground cumin.
It's 1/2 tsp of paprika.
Prepare 1/2 tsp of chili powder.
You need 1 lb of Ground Turkey.
Prepare 28 oz of Tomatoes plus their juices.
It's 1/2 cup of water.
It's 14 oz of black Bens cooked or canned.
Serve with tortilla chips or cornbread and coleslaw. The black beans and the sweet potatoes add a lot of nutrients to this chili. It would be easy to make this vegan by switching to vegetable broth and adding another type of bean in place of the turkey…maybe pinto beans or garbanzo beans. I think you'll love this black bean, sweet potato and turkey chili!
Turkey, Sweet Potato, Black Bean Chili instructions
Preheat oven to 400. Line rimmed baking sheet with parchment paper..
Toss sweet potato chunks with 2 tablespoons of the oil until well coated, then spread on baking sheet in single layer. Sprinkle with Sea Salt. Roast for about 20 minutes stirring a few times. Let cool..
Meanwhile heat remaining 2 tablespoons of oil in a large, heavy bottomed pot over medium heat. Once oil simmers, add onion, garlic, cumin, paprika, chili powder, & sea salt, stirring to coat. Cook for 8 to 10 minutes, until softened..
Add turkey cook stiring until meat is cooked through & moisture had evaporated about 20 minutes..
Add tomatoes & juices & sea salt. Increase heat to high & add water. Once mixture boils, reduce to low heat & cook uncovered for 20 minutes..
Stir in beans & sweet potatoes, taste & adjust seasoning as needed. Cook for 15 minutes to blend flavors..
Divide among individual bowls. Serve hot..
Turkey, Black Bean and Sweet Potato Chili With lean turkey instead of beef, this remix on the cold-weather classic has less fat than your average beef chili. Sweet potatoes deliver a dose of vitamin A, while quinoa provides a boost of protein. Top with Greek yogurt instead of sour cream and you can go ahead and pat yourself on the back. This turkey sweet potato chili recipe is healthy, cozy, comforting, and easy to cook. It makes great leftovers for meal prep!